Median returns of PE's "top quartile" funds are trending upward, posting 17% returns for the 2006 vintage, 20% for the 2007 vintage and 24% for the 2008 vintage, according to Bain's Global Private Equity Report 2016. So much in private equity turns on these statistics, but what does "top quartile" really mean?
Three quarters of private equity is "top quartile"
In an analysis of a representative sample of 550 different PE funds, Dr. Oliver Gottschalg discovered that 77% of funds can be considered top quartile when GPs are free to creatively perform their benchmarking calculation.
What are GPs doing?
Inconsistent data sources
By choosing the dataset that serves them best (Preqin or Thomson Reuters), 66% of managers can claim "top quartile" status.
Varied vintage years
Exploiting further ambiguity with respect to the applicable vintage year (which, according to various definitions can easily call into the next or the previous calendar year), 77% of funds can be labeled "top quartile".
Reliance on IRR
"Top quartile" benchmarking in private equity, like many of the industry's performance numbers, relies on size-weighted IRR. As a result, inherent in quartile ranking are the biases and distortions of IRR. IRR has a substantial upward methodological bias, allowing for an over 10% distortion of returns for one-third of funds. In fact, 26% of buyout funds are misclassified by IRR. And past IRR is not indicative of future returns.
What "top quartile" status really fails to tell us?
Ultimately, "top quartile" measures the how much but not the how of value creation, or its persistence. Effective fund performance measurements should assess a GP's overall skill set, or the nature of value creation, and most importantly, the likelihood of future outperformance.
How to identify the true outperformers
Through the PERACS GP Skill Benchmark, a similarity-weighted benchmark based on measurement of PERACS Alpha, Dr. Gottschalg concluded that a GP's implementation process – the performance of specific investment approaches into specific target companies – has the greatest impact on value creation for a fund, as compared to other factors influencing investment success like timing and strategy.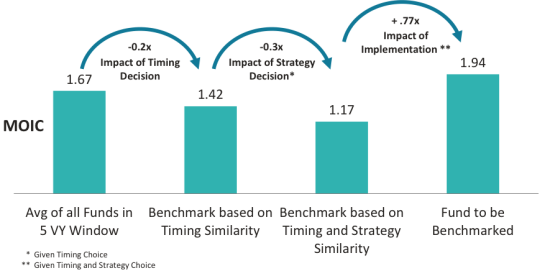 Understanding implementation provides insight into persistence as well
It's one thing for a GP to have a successful fund, but it's a different matter to maintain this outperformance throughout subsequent funds. Further analysis of 294 buyout "fund pairs" by Dr. Gottschalg determined that performance attributable to GP implementation skill persists across time.