The lack of transparency and standardization across the private equity industry has often been viewed as simply a part of investing in the asset class. Without broadly-accepted practices of calculating, tracking and presenting fees and performance, GPs and LPs have largely calculated and exchanged this information in ways that have worked best for them.
For some time, the SEC has been subjecting the industry to ever increasing regulatory scrutiny with respect to fees and performance. CalPERs recently sustained a particularly harsh round of media attention after "a senior staffer…told investment committee members that the $300 billion public pension giant 'could not track' the incentive fees (i.e., carried interest) that it had paid out to private equity fund managers", according to Fortune. In response to these growing concerns, the Institutional Limited Partners Association ("ILPA"), long an advocate for transparency and standardization in the private equity industry, has recently launched an effort to standardize industry behavior by publishing its Private Equity Principles.
This begs the question: Can the standardized treatment of performance fees be meaningful without first standardizing the metrics used to measure this performance?
PERACS has long provided standardized performance tools, metrics and benchmarks that can be used across the industry to measure success effectively and on a comparative basis.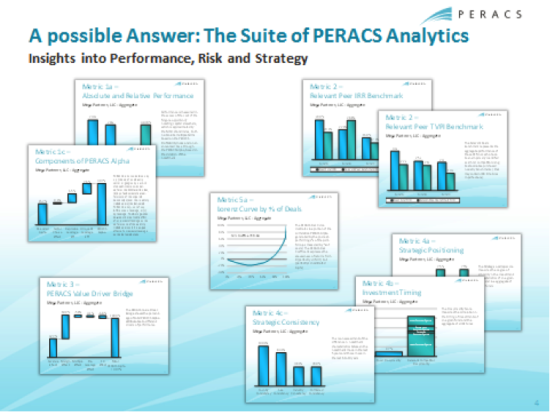 PERACS' analytics suite is a comprehensive set of metrics and benchmarks designed to accurately calculate PE investors' performance and effectively compare their performance to other PE firms and the public markets. PERACS' analytics suite includes:
Metric 1a – Absolute and Relative Performance
Metric 1c – Components of PERACS Alpha
Metric 2a – Relevant Peer IRR Benchmark
Metric 2b – Relevant Peer TVPI Benchmark
Metric 3 – PERACS Value Driver Bridge
Metric 4a – Strategic Positioning
Metric 4b – Investment Timing
Metric 4c – Strategic Consistency
Metric 5a – Lorenz Curve by % of Deals
This is just a subset of the comprehensive set of analytics that represents PERACS' sophisticated approach to understanding PE performance.