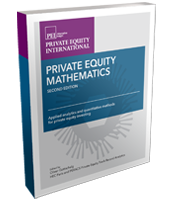 There now exists sophisticated quantitative methods for private equity GPs and LPs to assess investment opportunities, to value businesses, to benchmark portfolio performance, and to design incentives for executives and managers.
Edited by Oliver Gottschalg of HEC Paris and PERACS Private Equity Track Record Analytics, Private Equity Mathematics, Second Edition, is a must-have publication for all professionals investing in private equity assets and funds. This book is a valuable and practical resource with topics ranging from performance measurement and benchmarking, cash flow patterns and risks of private equity investing, to the economic and legal aspects of operating a private equity firm or investment program.
In addition to updated and expanded content, this guide features recent advancements in performance measurement, benchmarking and risk assessment.
This guide will help you to:
Understand the fundamentals of private equity investing and value creation drivers
Gain insight into the issues with inappropriate use of common performance measures
Optimise the measurement, management and integration of risk in the portfolio
Develop more sophisticated methods and benchmarks to assess investment performance
Better understand how to measure volatility in private equity investing