In Q1 2015, Preqin identified 388 institutional investors with a demonstrated interest in selling private equity fund interests on the secondary market. But buyers of these fund commitments should beware, as secondary investment risk can be highly affected by market timing.
According to a recent study conducted by PERACS and 17Capital:
Secondary fund risk is impacted by the stage of the economic cycle at which a primary fund is acquired, and;
2001 to 2004-vintage secondary funds have lower risk than 2005 to 2008-vintage secondary funds (depicted in Figure 10).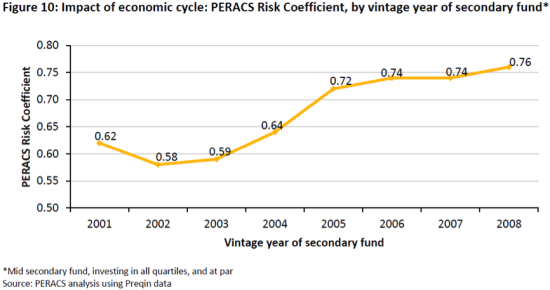 As indicated in previous posts, secondary fund performance is closely correlated to the value of a primary fund's unrealized portfolio at entry (which drives price) and subsequent value creation (which drives returns). Both of which are influenced by the economic cycle.
The study utilizes Preqin's performance data of 718 global buyout funds with 1980 to 2013 vintages. The dataset contains detailed cash flows and net asset values (NAVs) and can be considered the universe of primary funds that secondary acquirers target. Thus, the data can be used to simulate the risk of making secondary fund investments for each driver.
To read the full text of PERACS' and 17Capital's study, click here.